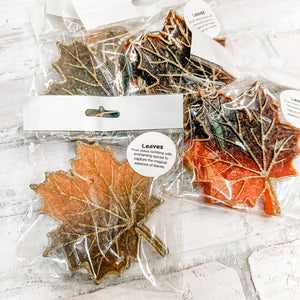 If you enjoy a long lasting scent experience, then these car freshies are for you! Freshies make great gifts for every occasion!
The Leaves Car Freshie is a fun way to accessorize your car while making it smell fantastic! You will receive a RANDOM color of freshie…the surprise makes it more fun!
Freshie Size: 4"X4.25"
Scent Descriptions:
Leaves - Fruit notes combine with enchanting spices to capture the magical essence of leaves
***Product Information***
These car freshies are handmade in Texas. Each freshie's scent will last for at least 3-4 weeks! Freshies do best in warmer months, since the heat intensifies the fragrance.
All car freshies come with a jute hanger ready to tie around your rearview mirror. If you don't like the length, there's enough extra to shorten it up with a simple knot as needed.
Stock up on your favorites! You won't have to worry about the shelf date on them as long as you leave them sealed. Car scents last 6+ months in the package!
***Shipping can take up to 2 weeks for processing.***
Please allow 7-14 days prior to receiving your shipping notification as our items are made just for you. If you have a specific need by date, please contact us prior to ordering.