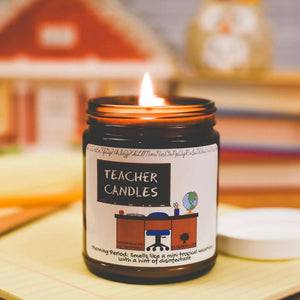 If you need a gift for a teacher that is sure to get a laugh, we have the perfect one for you! Our mini Teacher Candles are a small 6oz candle with a big scent and includes a school themed label. The scents are meant to be humorous descriptions (written by teachers!) but check out the scent descriptions below to know what they really smell like. This gift will be relatable for any teacher and will make Teacher Appreciation week or back to school just a little more fun!
Scents Available:
Grades Are Due: Smells like sleepless nights and all the coffee (Coffee Bean Scent)
Parent E-mails: I need a margarita to respond to this (Lime Margarita Scent)
PTA Moms: The aroma of 90s Body Spray and Type A Control Tendencies (Love Spell Scent)
Teacher's Pet: A whiff of apples with notes of favoritism (Fuji Apple Scent)
Planning Period: Smells like a mini tropical vacation, with a hint of disinfectant (Tropical Scent)
Broken Crayons (mystery scent, with chunks of broken crayon melted on the top)
***Product Info***
- Candles are 6oz and have a teacher themed label and scent description. 
- Due to the nature of natural soy wax, the wax may vary in texture and color.
- These mini candles are perfect for a small to average sized room and have a burn time of 25+ hours. 
- Oily Blends Cotton Wick Soy Candles are unique, handmade products. They thoughtfully consider each ingredient, and take deep satisfaction in their perfectly finished products.  
- Each piece is unique, as it is handmade, and may vary slightly from pictures due to the handmade process. This is not a flaw but more of a guarantee that you are getting a one of a kind piece that has been made especially for you!
***Please Note***
Colors may vary from photos depending on your settings on your monitor or other devices. Greenery and/or other photo props are not included with your purchase.
***Shipping can take up to 2 weeks for processing.***
Please allow 7-14 days prior to receiving your shipping notification as our items are made just for you. If you have a specific need by date, please contact us prior to ordering.