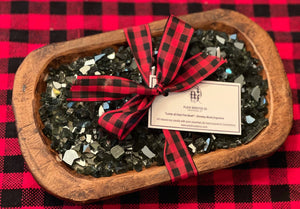 These dough bowls are so unique! The smoky musk fragrance smells like a fresh clean scent. The glittering smoky black mirrored fire pit glass sets the mood as you burn this beautiful candle. You don't want to miss out on this one!
***Product Details***
100% American grown soy wax infused with fragrance oil
Hand poured into a hand carved wood dough bowl
Accented with smoky black fire pit glass
3 cotton lead-free wicks
No artificial chemicals, dyes or additives used
 PLEASE NOTE: We do not use artificial toxic glues to adhere the glass. The glass is melted directly into the natural soy wax so some pieces will dislodge in-transit. This will not affect the look or functionality of the bowl and will not be a reason for a damage claim. Glass can be placed back into bowl loosely.
***Please Note***
 Colors may vary from photos depending on your settings on your monitor or other devices. Greenery and/or other photo props are not included with your purchase.
***Shipping can take up to 2 weeks for processing.***
Please allow 7-14 days prior to receiving your shipping notification as our items are made just for you. If you have a specific need by date, please contact us prior to ordering.