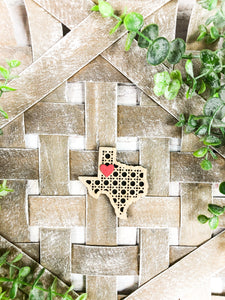 Do you need a cute Lubbock souvenir or gift? This wooden rattan dishwasher magnet is a cute addition to your kitchen home decor that can be displayed on any magnetic surface. The magnet is a double layer of natural wood cut in a rattan pattern and placed on a black wood backer piece. A little red heart is firmly attached to the are where our beloved Hub City is located.  It is perfect for a housewarming gift or souvenir for your out of town guests. These magnets also make great stocking stuffers on Christmas!

***Product Information***
-Magnet face measures approximately 3"x3".
- Magnet pieces are made from laser cut wood.
- Magnet is a small but mighty neodymium magnet that will prevent spinning and slipping. It is firmly attached to the magnet face.
- A light coat of sealer is applied to seal the surface of the magnet face and ensure added quality and protection.
- Each piece is unique, as it is handmade, and may vary slightly from pictures due to the handmade process. This is not a flaw but more of a guarantee that you are getting a one of a kind piece that has been made especially for you!
-We select only quality pieces of wood but each piece is different and may have small natural imperfections including, but not limited to, knots, texture, indentations, small cracks, and more. No two pieces of wood are the same and no two signs will appear identical in stain color, distressing, or natural detailing and grain of the wood.

***Please Note***
Colors may vary from photos depending on your settings on your monitor or other devices. Greenery and/or other photo props are not included with your purchase.
***Shipping can take up to 2 weeks for processing.***
Please allow 7-14 days prior to receiving your shipping notification as our items are made just for you. If you have a specific need by date, please contact us prior to ordering.
Wonderful service and products!
The owner saved me when I forgot to get a graduation gift for a friend. She was fast and helpful and I was able to gift some amazing things to my friend. Highly recommend!