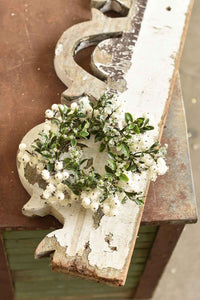 This unique wreath features white berries and frosted glassy beads to give it an icy texture. This will be beautiful in a small space with a candle in the middle.

***Product Info***
- Measurement is approximately 4".
- Each piece is unique and may vary slightly from pictures.
***Please Note***
 Colors may vary from photos depending on your settings on your monitor or other devices. Greenery and/or other photo props are not included with your purchase.
***Shipping can take up to 2 weeks for processing.***
Please allow 7-14 days prior to receiving your shipping notification as our items are made just for you. If you have a specific need by date, please contact us prior to ordering.