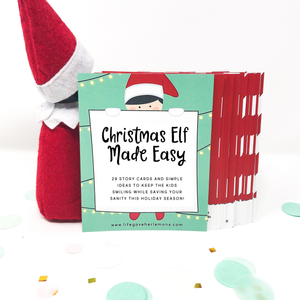 29 Story Cards and Simple Ideas to Keep the Kids Smiling While Saving Your Sanity This Holiday Season! Your kids just LOVE when the elf gets into trouble, but are you running out of ideas? Are you waking up in the middle of the night because your elf hasn't moved? These cards make things EASY! Each card contains a silly story or poem written from the perspective of the elf, along with cut-off instructions so parents can stage the scene using everyday household items that most families will already have on hand!  Your children will love waking up to read what the elf has to say!
NOTE: Elf and Props NOT included.
***Please Note***
 Colors may vary from photos depending on your settings on your monitor or other devices. Greenery and/or other photo props are not included with your purchase.
***Shipping can take up to 2 weeks for processing.***
Please allow 7-14 days prior to receiving your shipping notification as our items are made just for you. If you have a specific need by date, please contact us prior to ordering.