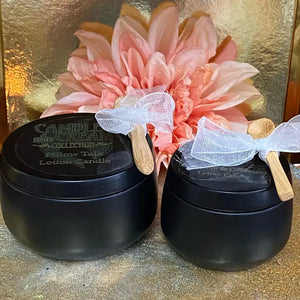 These lotion candles are made with Shea Butter, Coconut Butter, Soy Wax, and Fragrance Oils. Each one is decorated with a bamboo spoon and white bow.
Simply light the lotion candle. As you burn the candle, the heated oil will then turn into a super moisturizing oil that is now ready to use as a lotion or massage oil. Extinguish the flame and use the bamboo spoon to pour the oil onto your body, hands, feet or legs and massage into skin. If the oil irritates skin discontinue use immediately and rinse off of skin. DO NOT leave spoon in jar while candle Is burning!
8oz Candle - single wick candle - burn time of 30+ hours
Scent Descriptions:
Amaretto By Morning - Nutty, fruity amaretto with notes of creamy cherry, sugary vanilla, powdery liqueur type vanilla with luscious freshly sliced pear and a hint of peach and green apple
Candy Cane Kisses - Sweet peppermint sticks with a creamy, rich vanilla

Cowboys & Dreamers - 

Succulent plum, the scent of aromatic clove leaves and the fresh air tonalities of ozone intertwine with the nuances of sweet cardamom seed and the sweet, fragrance of this floral bouquet. Creamy vanilla tonalities and golden amber scents blend together to unite, enhance and complete this fragrant accord.
Volcano Island - Crisp, watery accents add sparkle to an accord of tropical foliage that accents the fruity heart of this summer blend. Pinapple, goji berry and mango are perfectly blended for an exotic sensation, as a hint of driftwood adds ring tones of sunny warmth to the island sensation.

***Please Note***
 Colors may vary from photos depending on your settings on your monitor or other devices. Greenery and/or other photo props are not included with your purchase.
***Shipping can take up to 2 weeks for processing.***
Please allow 7-14 days prior to receiving your shipping notification as our items are made just for you. If you have a specific need by date, please contact us prior to ordering.