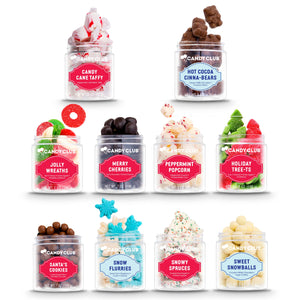 Ready for winter? Celebrate the frosty fun with a festive collection of sweets and sours that are sure to make everyone on your list happy! Indulge in the jolliest confections in town. These festive sweets make the perfect stocking stuffer and holiday treat to make your season merry and sweet.
Flavor Descriptions:
Peppermint Popcorn - 

Crunchy candy canes on top of frosted kettle corn — Can the holidays get any sweeter?! This Peppermint Popcorn is fun all winter long.

Jolly Wreaths - 

Have a holly jolly time with these gummy wreaths! Tart wreaths come in a mix of cherry, green apple, and strawberry-banana flavors.

Santa's Cookies - 

Chocolate covered cookie dough bites to fuel Santa through his big night. These poppable morsels make the perfect stocking stuffer!

Merry Cherries - 

Stay merry all holiday season long with delightfully divine dried cherries coated in rich dark chocolate. One bite will have you fa-la-la-la-ing in love!

Snowy Spruces - 

Like a sweet sleigh ride, these frosted pretzel trees are sure to make the season bright, especially with festive red and green sugar crystals sprinkled!

Candy Cane Taffy - 

The delicious flavor of a classic candy cane in a tasty whipped, salt-water taffy bite!

Holiday Tree-Ts - 

Getting festive is getting tastier! These tart, gummy trees come in bright strawberry and green apple flavors — the perfect treat after decorating the Christmas tree!

Sweet Snowballs - 

The perfect snow day snack is here! Crunchy and coated in white chocolate, these sugar cookies are sure to bring some winter fun to everyone!

Snow Flurries - 

Catching snowflakes on your tongue just reached a new level! These gummy glitter snowflakes bring all the fun of winter weather without any of the cold. These sweet-tart gummies come in a mix of raspberry cream flavors.

Hot Cocoa Cinna-Bears - 

Cozy up with a warming cinnamon bear coated in decadent milk chocolate — a divine winter mix!
***Product Info***
Shelf life: 3–6 months

Storage: Shelf-stable

Dimensions: 2.8 x 2.8 x 3.1 in (7.1 x 7.1 x 7.9 cm)
***Please Note***
Colors may vary from photos depending on your settings on your monitor or other devices. Greenery and/or other photo props are not included with your purchase.
***Shipping can take up to 2 weeks for processing.***
Please allow 7-14 days prior to receiving your shipping notification as our items are made just for you. If you have a specific need by date, please contact us prior to ordering.